Many videos or assembly tutorials are available on our website or in our documentation.
This article will show you useful information relative to your products for their assembly.
MIL-DTL-38999 connectors and derivatives
Valid for: MIL-DTL-38999 series I, II, III, SC39, RNJ(LP), 387TV ranges.
For the Powersafe range, see page 12 of the brochure: Catalog powersafe (amphenol-socapex.com)
For the assembly and disassembly of the contacts in their cavities, you can watch the following video tutorial:
Below you will find the MIL-DTL-38999 contact insertion / removal tools:


See catalog: TV-CTV page 54
2M connectors
The contact assembly procedure for 2M connectors is identical to that described above.

The tools, however, are different: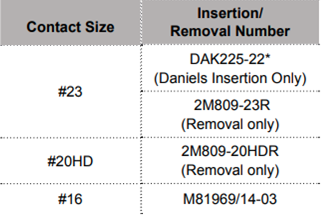 Note : These tools must be purchased through distribution channel

You will find this information on page 39 of our catalog: 2M Micro Miniature (amphenol-socapex.com)
PT/451 connectors
Crimp contact insertion instructions for PT/451 connectors are available on page 71 of the catalog: PT/451 products (amphenol-socapex.com)

Tools for inserting and removing the contacts are as follows:

Note: Solder contacts are supplied mounted in the connectors and cannot be removed.