Amphenol Socapex has a strong experience in the design and manufacture of electrical contacts for connectors. We provide solutions from signal and power to high speed contacts for harsh environment applications. Amphenol Socapex has also developed an expertise in fiber optic technology and offers extended beam solutions.
Signal and Power Contacts
The signal and power contacts are contacts that allow the transfer of low current (signal) to higher current (power).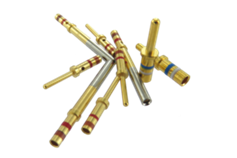 Amphenol and Amphenol Socapex offer signal and power contacts that are qualified to the most used standards in our industry (AS39029 and EN3155).
Our signal contacts range from size 23 to size 16 (2A to 13A) and our power contacts from size 12 to 0 (23A to 500A).
High Speed Contacts
In contrast to signal contacts, high-speed contacts allow information to be transmitted. The type of contact and the data transmitted are defined by protocols. Amphenol Socapex offers several solutions that meet the expectations of the current market.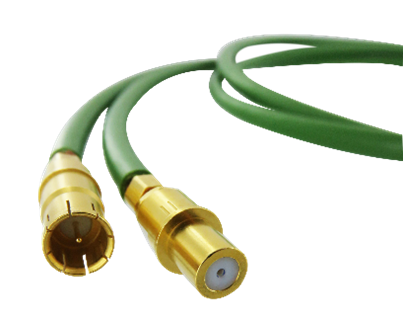 CONTACTS COAX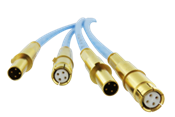 CONTACTS ETHERNET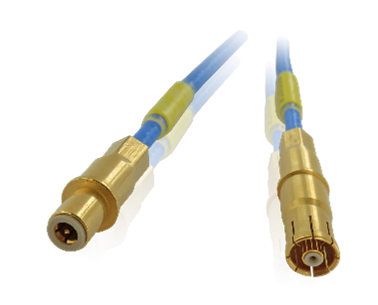 CONTACTS TWINAX
COAX contacts are used for the transmission of digital or analog signals at high or low frequencies. Amphenol Socapex offers COAX contacts for 50Ohms impedances (radio, radar, GPS...) but also 75Ohms for video applications.
The TWINAX contacts have been designed for use with the twinax cable in data bus systems. They are particularly suitable for MIL-STD-1553 and ARINC 429 protocols.
ETHERNET contacts are designed for transmission of ethernet or AFDX signals using 100Ohm differential pairs. Amphenol Socapex offers several solutions :
Twinax Differential contacts : 1 differential pair per contact.
Quadrax contacts : 2 differential pairs per contact.
Octomax 1G26 contacts : 4 differential pairs per contact.
Fiber Optics Termini
Fiber Optics Termini enable an evolution of contact technologies from optical physical contact to optical non-contact technology. These contact types are intended for overhead applications and field communication systems to provide a solution for secure, high-volume information transmission via fiber optic termini.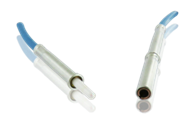 Extended beam optical contacts :
Lux-Beam #16 : for size 16 connectors

Lux-Beam #12 : for size 12 connectors
Updated