An RNJ is a connector typically intended for harsh environments. These connectors are intended for military applications such as land vehicles military aircraft and battlefield communications.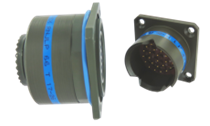 Origins of the RNJ
The RNJ series belong to the HE308 26 and 27 standards. HE308 is a French standard that was published by the D.A.T (Direction des armements terrestres) and GIAT industries (which is now Nexter).
The HE308 standard dates from the 1980s. It has been 15 years since there were any qualification maintenance requirements. This standard is a derivative of MIL-DTL-38999 series I for which Amphenol Socapex is a qualified manufacturer.
The same contacts, housings and inserts are used as for QPL products. In addition, the HE308 standard uses features that are not listed in MIL-DTL-38999 such as power connectors or rack & panel.
Description of a RNJ
Amphenol Socapex presents three types of RNJ :
RNJ Rack & Panel

RNJ Rack & Panel Low Profile

RNJ Reduce Flange
Each of these connectors has different characteristics depending oh the customer's needs. But they all have the same characterisitcs.
RNJ Rack & Panel are designed for blind connections.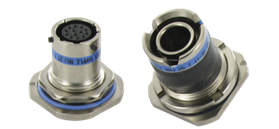 Reduce Flange RNJs offer a smaller and lighter solution especially for realignment and buoyancy needs for blind connections.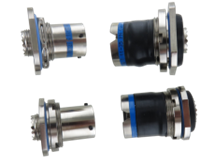 The RNJ series are intended for use in harsh environments and must meet the same technical specifications, particularly with regard to connector protection and performance.
These series comply with the EMI shielding which aims to reduce the electromagnetic field. The cycle times are 500 hours. These connectors are resistant to moisture and corrosion.
Updated